Posted by Alexander Millar on 18th Apr 2022
I have great affinity with The Angel of the North sculpture by Antony Gormley.
In 1990, the concept of the sculpture was being discussed just a few years after I had moved to the north east of England from an Ayrshire mining village in Scotland.
This piece of monumental art emerging on what was once colliery pit-head baths resonated with my own artistic interpretations of the changing industrial landscapes of our past.
At this stage, I was a struggling artist - supplementing my income by cleaning windows, but The Angel of the North sculpture - its history, sense of place and the emotion that motivated the project stayed with me through these tough times.
I think that's a feeling that many of us that grew up in the mid-20th century can understand.
A few years later I painted my own tribute to The Angel of the North, and then created a sculpture - who looks over the shoppers in Gateshead's Metro Centre - another site of industrial regeneration.
Instead of the sleek, minimal shape of the Anthony Gormley artwork, my 'gadgie' angel had his signature baggy, work suit and flat cap. Instead of arms (or wings) outstretched, he had his window cleaner's ladder across his shoulders.
I've created four artworks that refer back to my own 'gadgie' Angel, removing him from the industrial landscapes of the past and placing him in scenes that are more 21st century.After the last couple of tough years for all of us, my new 'gadgie' Angel is looking towards colourful vistas that I think bring some pleasure, joy and hope for the future.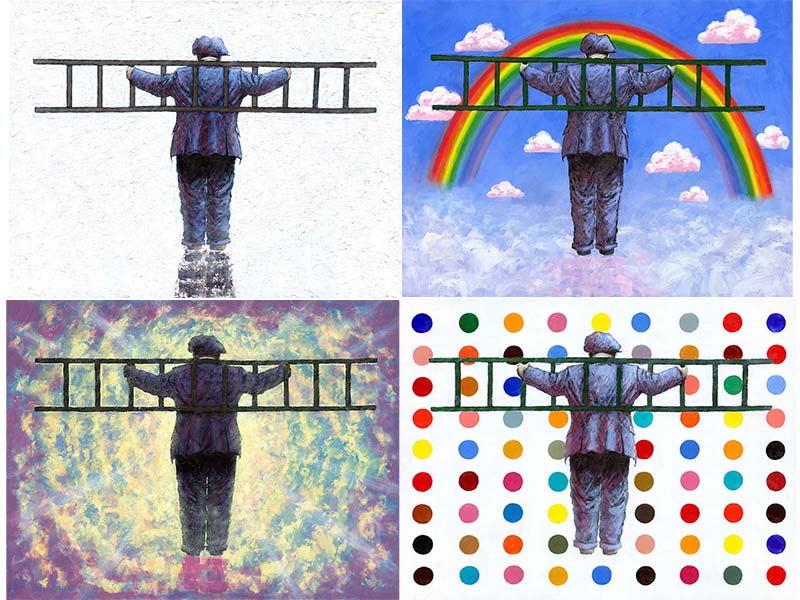 The full "Angel" collection of framed, original oil paintings and framed, signed limited edition prints on paper and on canvas can be viewed in our Newcastle and Glasgow galleries. The original paintings, framed canvas prints and paper only prints can be viewed (and purchased) online.